Packers and Movers in Kharagpur
Packers and Movers in Kharagpur
Why to choose Shifting solutions?
We know the value of money thus we provide best services at genuine rates.
Trustworthy and high-quality packing relocation services.
We have the free cancellation policy in which you can change booking date or cancel your move before the relocation.
We will provide you well-equipped and fast shifting services as well.
You might need assistance of some expert so we will provide you best customer support till shifting.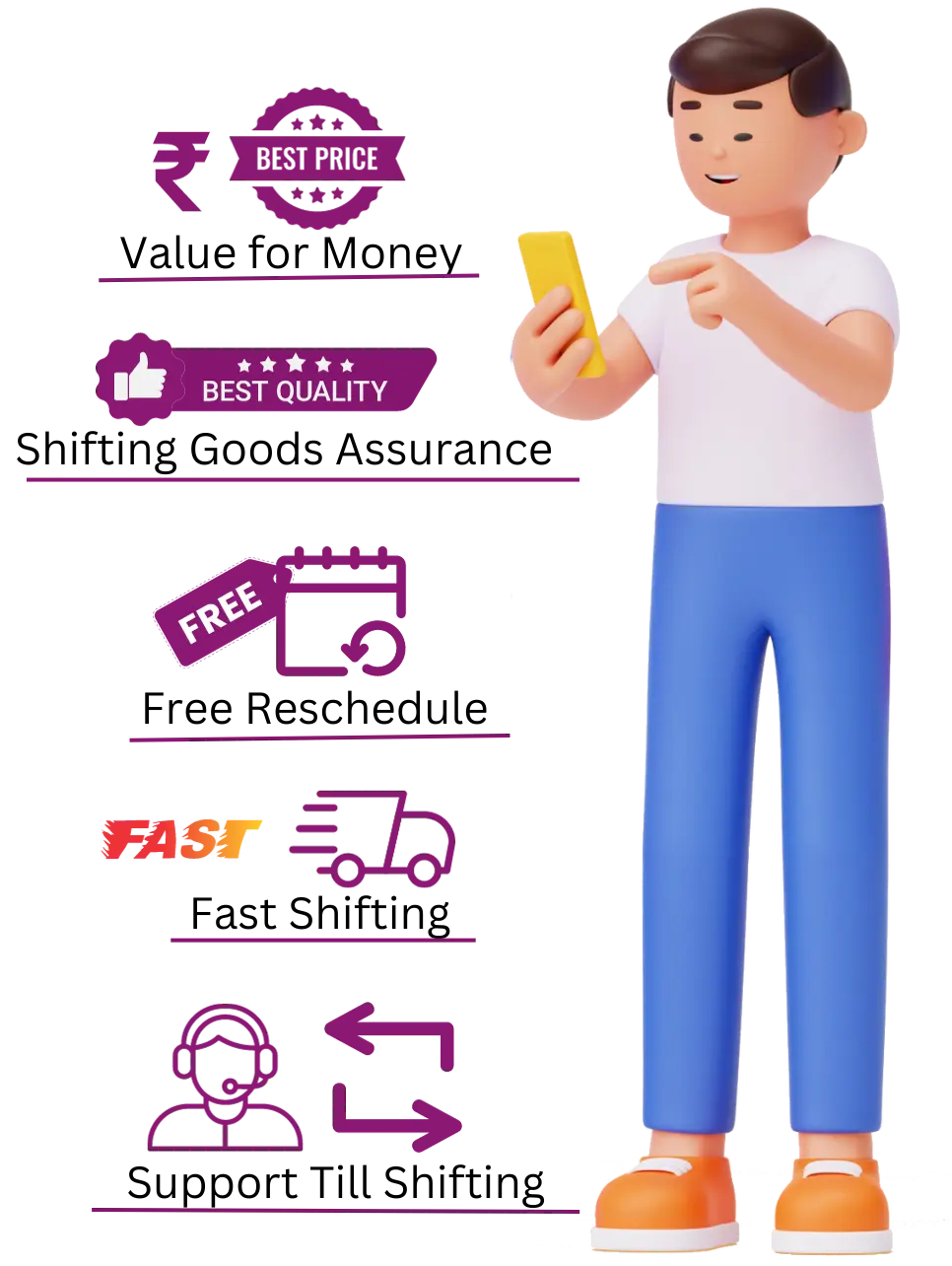 Customers Experience About us
So, thanks for making my shifting process reliable for me.
"I am so impressed by the relocation services of ShiftingSolutions Packers and Movers team. When I'm shifting I am extremely worried that how could this be possible but you made it simpler for me.."
Thanks and keep it up.
"You have the best relocation services which had made my moving experience the easier one by the best Packers and Movers team."
you have made it more effective
"The best services with top customer support team by ShiftingSolutions genuine Packers and Movers. Shifting from one place to another is a very tough and tedious task and now you made it easier"
Effective and Dependable One.
"I am extremely happy and satisfied with the services of ShiftingSolutions Packers and Movers which has made the moving services effective and dependable."
Smooth and Easier One
"Thanks for making my relocation services best and great with your ShiftingSolutions Packers and Movers which makes it smooth and easier."
Top Notch moving services
"Extraordinary moving services by best Packers and Movers team on ShiftingSolutions have made my whole relocation process simple and easy going."
Helps us to find convenient movers near me
"I am just amazed to get this relocation services from the best Packers and Movers team from Shifting Solutions. Thanks for your convenient relocation services."







Local shifting rates in Kharagpur for 1 BHK, 2 BHK, 3 BHK & 4/5 BHK home / office
1 BHK local home / office shifting rates ₹ 3,500 – 7,500
2 BHK local home / office shifting rates ₹ 4,500 – 9,500
3 BHK local home / office shifting rates ₹ 5,500 – 12,500
4 BHK local home / office shifting rates ₹ 8,500 – 16,500
| Shifting Size | Packing Charge | Total Charges |
| --- | --- | --- |
| 1 BHK | ₹ 1,500–3,000 | ₹ 3,500 – 7,500 |
| 2 BHK House | ₹ 2,000–4,000 | ₹ 4,500 – 9,500 |
| 3 BHK House | ₹ 2,500–5,000 | ₹6,000 – 12,500 |
| 4 or 5 BHK House | ₹ 4,000–6,000 | ₹ 8,500 – 15,500 |
| Shifting Size | Transportation Cost | Total Charges |
| --- | --- | --- |
| BHK | ₹ 2,000–4,500 | ₹ 3,500 – 7,500 |
| 2 BHK House | ₹ 2,500–5,500 | ₹ 4,500 – 9,500 |
| 3 BHK House | ₹ 3,500–7,500 | ₹6,000 – 12,500 |
| 4 or 5 BHK House | ₹ 4,500–9,500 | ₹ 8,500 – 15,500 |
| Shifting Size | Packing Charge | Transportation Cost | Total Charges |
| --- | --- | --- | --- |
| 1 BHK | ₹ 1,500–3,000 | ₹ 2,000–4,500 | ₹ 3,500 – 7,500 |
| 2 BHK House | ₹ 2,000–4,000 | ₹ 2,500–5,500 | ₹ 4,500 – 9,500 |
| 3 BHK House | ₹ 2,500–5,000 | ₹ 3,500–7,500 | ₹6,000 – 12,500 |
| 4 or 5 BHK House | ₹ 4,000–6,000 | ₹ 4,500–9,500 | ₹ 8,500 – 15,500 |
Local house shifting cost in Kharagpur for the distance 0 – 60 Km
| Shifting Size | 00 – 20 Km Charges | 20 – 40 Km Cost | 40 – 60 Km Rates |
| --- | --- | --- | --- |
| 1 BHK | ₹ 3,500 – 7,500 | ₹ 4,500 – 8,500 | ₹ 6,500 – 9,500 |
| 2 BHK House | ₹ 4,500 – 9,500 | ₹ 5,500 – 10,500 | ₹ 7,500 – 13,500 |
| 3 BHK House | ₹ 5,500 – 12,500 | ₹ 6,500 – 16,500 | ₹ 8,500 – 18,500 |
| 4 or 5 BHK House | ₹ 8,500 – 16,500 | ₹ 10,500 – 20,500 | ₹ 13,500 – 25,500 |
1 BHK house / office shifting cost for distance 0 – 80 Km in Kharagpur Local
1 BHK local home / office shifting rates ₹ 3,500 – 7,500 for the distance 00 – 20 Km
1 BHK local home / office shifting rates ₹ 4,500 – 9,500 for the distance 20 – 40 Km
1 BHK local home / office shifting rates ₹ 6,500 – 9,500 for the distance 40 – 60 Km
1 BHK local home/ office shifting rates ₹ 8,500 – 12,500 for the distance 60 – 80 Km
| Distance / Km | 1 BHK Charges |
| --- | --- |
| 00 – 20 Km | ₹ 3,500 – 7,500 |
| 20 – 40 Km | ₹ 4,500 – 8,500 |
| 40 – 60 Km | ₹ 6,500 – 9,500 |
| 60 – 80 Km | ₹ 8,500 – 12,500 |
2 BHK home / office shifting cost for distance 0 – 80 Km in Kharagpur Local
2 BHK local house / office shifting rates ₹ 4,500 – 9,500 for the distance 00 – 20 Km
2 BHK local house / office shifting rates ₹ 5,500 – 10,500 for the distance 20 – 40 Km
2 BHK local house / office shifting rates ₹ 7,500 – 13,500 for the distance 40 – 60 Km
2 BHK local house / office shifting rates ₹ 8,500 – 15,500 for the distance 60 – 80 Km
| 2 BHK Charges | Distance / Km |
| --- | --- |
| ₹ 4,500 – 9,500 | 00 – 20 Km |
| ₹ 5,500 – 10,500 | 20 – 40 Km |
| ₹ 7,500 – 13,500 | 40 – 60 Km |
| ₹ 8,500 – 15,500 | 60 – 80 Km |
3 BHK house / office shifting cost for distance 0 – 80 Km in Kharagpur Local
3 BHK local home / office shifting rates ₹ 5,500 – 12,500 for the distance 00 – 20 Km
3 BHK local home / office shifting rates ₹ 6,500 – 16,500 for the distance 20 – 40 Km
3 BHK local home / office shifting rates ₹ 8,500 – 18,500 for the distance 40 – 60 Km
3 BHK local home / office shifting rates ₹ 10,500 – 20,500 for the distance 60 – 80 Km
| Distance / Km | 3 BHK Charges |
| --- | --- |
| 00 – 20 Km | ₹ 5,500 – 12,500 |
| 20 – 40 Km | ₹ 6,500 – 16,500 |
| 40 – 60 Km | ₹ 8,500 – 18,500 |
| 60 – 80 Km | ₹ 10,500 – 20,500 |